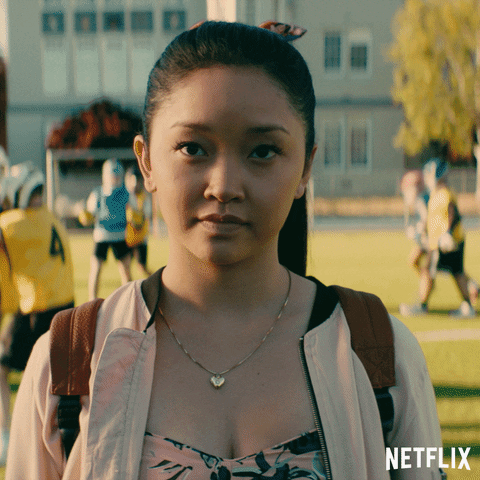 The first year I went to BookCon in 2016 I met Jenny Han for the first time and she personally signed a copy of To All the Boys I've Before for me, which I bought onsite. And then I went home, put the book on my book case, and never read it. Well now that the film has been adapted into a Netflix movie, I decided maybe it was time I finally gave the book a read. In addition, over the years I've also acquired the entire trilogy so I figured why not just binge the whole trilogy. And binge it I did.
According to my handy planner, I went through this entire trilogy from July 27 to 31. In sum, I binged it in a weekend. What can I say, I was pretty hooked on Lara Jean's story from the start, and I just couldn't put these books down, not even for sleep. I crashed after I finished the last one, in case you were wondering.
If you're unfamiliar with the series, it follows Lara Jean, who writes a letter every time she's done with a crush. She pretty much pours her heart out, saying what she loved about the guy, and then puts it in an envelope and even addresses it, but never sends it. Honestly, this was my one major issue with this whole concept. If Lara Jean never planned on sending the letters, why even write their address? But I get that it was for the plot, since the person who ends up sending them out, most likely wouldn't have put in the effort to track down all these guys' addresses.
Moving right along, Lara Jean's letters do get sent out, which is a shock to her, especially when one of her crushes, now popular guy Peter K, confronts her about it. At the same time, Lara Jean's most recent crush, Josh Sanderson, also got his letter. Only problem is Josh, until very recently, was dating Lara Jean's older sister, Margot. Awkward. In order to cover up the fact that she has serious feelings for Josh, Lara Jean kisses Peter in a most dramatic fashion, and they begin a fake relationship to trick Josh and Peter's ex/Lara Jean's ex-best friend, Genevieve, into believing they've moved on.
I love a good fake relationship story and that's exactly what book one gave me. Book two gave me a great love triangle where I would've been happy if Lara Jean ended up with either guy (though I thoroughly approve of her final choice). And then finally, the last book just gave me all the feels because it was all about graduating from high school and not being sure about how your relationships in high school would transcend to your new life in college. While I graduated high school almost a decade ago (wait what?), those feelings still felt very real to me.
Overall, I obviously loved all these books. They were romantic and heartwarming, and I love the relationships Lara Jean had with her sisters, Margot and Kitty. Plus, as I said, I just couldn't put them down. I highly recommend reading this book before the movie comes out and then checking out the film, which drops on Netflix on August 17. I plan on baking cookies, just like Lara Jean would, for the occasion. I can't wait!
Number of Books: 3
Borrow or Buy: Buy!
Overall Rating: 
P.S. I made a BuzzFeed quiz for you to find out which Song girl (Lara Jean and her sisters) you are if you're into that kind of thing.
P.P.S. Here's the trailer if you haven't watched it 100 times like I have.